Mechanic's Toolbox CD - Verison 5.5
By John Schwaner
Sacramento Sky Ranch, Inc.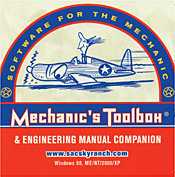 The Best Collection of A&P Tech Tools we have every seen.
Yours for only $39.95 +S&H. Monthly up-dates are FREE !
This CD will save you $39.95 several times a year,
not to mention preventing mistakes.
Over 34 years to assemble by Aviation Entrepreneur John Schwaner.
Mechanic's Tookbox CD
---
Aviation DataSource, Inc.
Phone: (800) 952-8844; E-Mail:
AirBase@AirResearch.com
The Aviation DataBase
®
---
The Aviation DataBase is a registered trademark of Aviation DataSource, Inc.
Copyright 1992 - 2013. Aviation DataSource, Inc. All Rights Reserved.

Aviation Regulatory Library
Airworthiness Directives - Type Certificates - Advisory Circulars